A rural tradition
St. Martin's Day: a link to rural tradition
Mid-November is traditionally an important time for goose farming and fattening.
St. Martin's Day has been celebrated in mid-November (the 11th) for several centuries. According to the legend, Martin, a former Roman soldier, was chosen by the residents of Tours to become their bishop. He didn't want to be ordained and hid in a flock of geese. He was betrayed by their honking, a sign of divine will. Martin couldn't escape his ordination. He travelled around Roman Gaul evangelising and later became the famous St. Martin of Tours.
Nowadays, it's traditional to eat goose on St. Martin's Day in several European countries.
In Alsace and other rural areas of France, the St. Martin's Day goose is the sign that it's time to close out the farming season and celebrate.
In earlier days, the laying of goose eggs naturally led to raising goslings over the summer. The fattening of the geese started when the maize crop was harvested, as November neared. It was during this time of the year that landowners would come and choose geese for fattening for their sharecropping payment.
Mid-November was also the time when markets returned across the foie gras producing regions.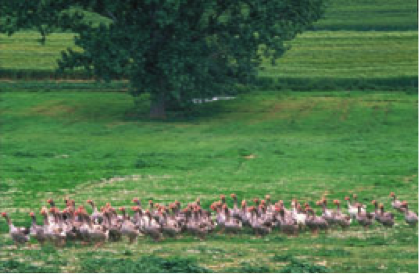 The foie gras markets are traditionally concentrated in south-western France.
Samatan (32), Monday mornings all year
Fleurance (32), Tuesday mornings from 15/10 to 31/03
Gimont (32), Wednesday mornings all year, Sunday mornings from 01/11 to 31/03
Seissan (32), Friday mornings all year
Eauze (32), Thursday mornings from 15 September to April 30
Ribérac (24), Friday mornings, Thiviers en Perigord (24), Saturday mornings from October to March
Périgueux (24), Wednesday and Saturday mornings
Sarlat (24), Saturday mornings
Thenon, Excideuil, Terrasson, Vergt, Bergerac … (24)
Orthez (64), Saint Palais (64), Brive (19) …
Other towns and villages throughout France also have foie gras markets, usually as the end-of-year celebrations approach.